Eyespot Launches Off-the-Shelf Video Personalization Suite for Online Publishers
Subscription and Ad-Supported Offerings Let Web Sites of Any Size Offer Online Video to Drive Traffic and Loyalty
Eyespot CEO, Jim Kaskade: "Consumers Want to Make Content Their Own. The Publishers Who Make That Possible Will Come Out on Top in 2008"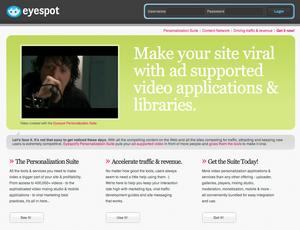 Eyespot (www.eyespot.com) is bringing online video to mid-market and long-tail publishers with a self-serve offering for integrating video into any Web site. Known for its work creating video personalization solutions for customers such as Lucasfilm, Ltd., SonyBMG Entertainment and Fox Interactive Media, Eyespot is making its technology available to all publishers that want to boost traffic, loyalty, and viral activity with online video. Now, any publisher can go to www.eyespotnetwork.com, complete a 10-minute registration process, and have interactive online video up-and-running within hours.
According to Owen Gallagher, creative director of the recently launched TotalRecut.com, a Web site for movie enthusiasts, "Engaging online video is vital to the success of our business, but we wanted to focus our resources on growing our community, and not on technology infrastructure. Eyespot's Personalization Suite is the only solution we found that is cost-effective for a young brand and that provides a compelling user experience. Now we don't need to send our community members to someone else's Web site for video features, and we're not compromising between cost and quality."
The Eyespot Personalization Suite includes:
--  Hosted applications that let consumers view, upload and share videos
    online and via mobile, all from a publisher's own Web site
--  Personalization features that allow consumers to easily mix
    professional and user-generated content
--  A library of more than 1,000,000 rights-cleared videos, music and
    photos
--  Instant monetization of in-stream ads from leading networks such as
    Google AdSense for Video, Tremor Media, adap.tv and others
--  The option to leverage the Eyespot network for content syndication for
    added reach and visibility
--  Free (ad-supported) or low-cost monthly subscription offerings
"Video is not just for the big players anymore. We won't turn you away because you are small, and we don't expect you to pay the big brand pricing either," said Jim Kaskade, President and CEO of Eyespot. "By removing the barriers of cost and complexity, we're opening up the playing field to a sizable and growing market of mid-sized and long-tail publishers that want to use online video to drive consumer engagement, viral marketing, and monetization strategies."
Eyespot's offering comes as online video experiences record growth. comScore found that during December 2007, more than 76 percent of U.S. Internet users watched video online. Data culled from Eyespot's Personalization Network indicates that not only are video views increasing, but that consumers expect and want to do more than watch videos passively. Eyespot-powered sites currently deploying its full suite of applications average 80 video views per unique visitor, per month, a significant increase over industry standards.
Eyespot's technology is built to encourage personalization, the myriad ways that consumers can interact with content. Beyond basic online video infrastructure and publishing, additional features allow users to manipulate professional content, combine user-generated text, music, and videos with rights-cleared material, and broadcast videos through their own social networks.
More than 30 specialty sites have already joined Eyespot's Network, including: ExpertVillage.com, eHow.com, Schooltube, Sisterwoman, Westside LAX, Project Varisty, iHigh, Right Fit Sports, Stack, Marblemouth, PropertyTourTube, Solution Studio, Jump Forward, and Antiques TV.
"Consumers want to make content their own — a concept that gets to the heart of the promise of the Internet to be a vehicle for engagement and communication. The publishers who make that possible will come out on top in 2008," said Kaskade.
About Eyespot
Eyespot provides Web-based and mobile video applications and media libraries for publishers of all sizes that consumers use to personalize and virally distribute ad-supported video content. The Eyespot Personalization Suite features drag-and-drop video editing tools, mobile and broadband distribution capabilities, and access to a library of over 1,000,000 rights-cleared videos, photos, and music. Eyespot is a trusted partner to more than 4,000 leading publishers in the music, film, broadcast TV, sports, and social networking sectors. For more information, visit www.eyespotnetwork.com.