Lets face it….there's greater value as you move closer to the end-user. SaaS applications are where the value and the true revenue opportunities lie.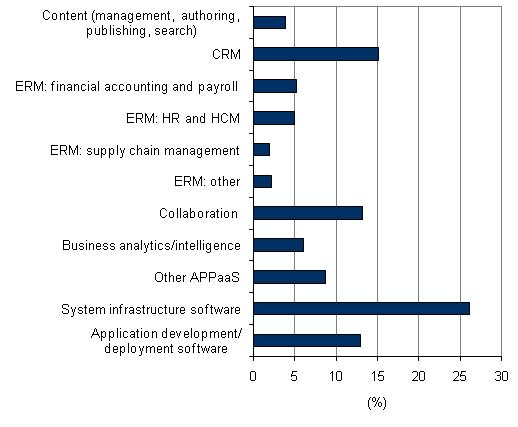 Source: Worldwide Software as a Service 2010-2014 Forecast: Software Wil Never Be the Same, IDC.
When you look at this market, SaaS applications vary greatly in functional scope, such as CCC, CRM, ERP and SCM. Looking at the past, CRM (e.g. Salesforce.com) and Collaboration (e.g. Google Apps) have been the most successful. When asked about the future, enterprises rate the top two "hot" applications for current and planned use of SaaS as Enterprise Project Management (EPM) and recruitment (per Gartner). This is an area in which we are seeing increased competition as vendors in the talent management space expand beyond their traditional focus area to encompass other talent management processes. For example, EPM vendors are building out recruiting and learning capabilities, recruiting vendors are moving into performance and learning/development, and, similarly, vendors from the learning arena are pushing into performance and recruiting.
Financial accounting is an area in which SaaS has traditionally found some acceptance and success at the small-business end of the market. But challenges exist at the midmarket and high end, where multicurrency, country-specific and consolidation capabilities are required.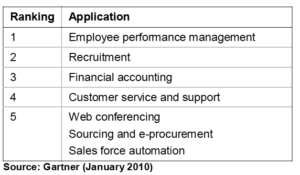 Customer service and support is not quite as popular as sales force automation in the context of SaaS applications, but it is an area we'll see increased interest in 2011, especially where there are limited workflow integration requirements and lower call volumes. SaaS solutions in the call center can offer a cost-effective alternative to on-premises maintenance renewals, and they can also allow buyers to take advantage of newer technologies and functions.
Enterprises ranked Web conferencing, sourcing and e-procurement, and sales force automation all at fifth place in the "what's hot" category. All these categories are well-established in their use of SaaS as a delivery option, with some very well-known vendors firmly established in each of these areas. Although SaaS has been available in these areas for a number of years, there is still a lot of room for greater adoption among businesses of all sizes.
Other related articles: