Eyespot Shifts Focus to Mid-Tail Video Providers with Network Model
posted by: Will Richmond
Another sign of how quickly broadband video companies are adapting themselves to market conditions: Eyespot, which started by providing video editing capabilities to users of big branded web sites has evolved its focus to a network model, specializing in mid-tail sized video providers. CEO/co-founder Jim Kaskade explained their shift to me and why it's paying off.
Eyespot's core capability remains providing video editing and sharing tools, but it is now also offering them in a self-serve model, enabling small-to-mid sized sites to quickly get up and running. Jim sees at least 2 clear differentiators for Eyespot:
First, for sites which want to offer a user-contributed video capability, Eyespot addresses all the complexities such as handling multiple file formats, offering strong moderation and monetization. ExpertVillage is a good example of a site benefiting from this approach. EP's myriad "experts" contribute their how-to videos to the site using Eyespot's tools. In this model, Eyespot is fundamental video infrastructure, powering all of the video publishing at the site.
Depending on the business model the provider chooses for the user-contributed capability, all of their video can be included for syndication to other sites by Eyespot to others in the network. This includes options for delivery to mobile devices. Eyespot monetizes the network, currently at $4-8 CPM. In addition to powering user contributions, this capability is also appealing for mid-tail providers who just intend to upload and manage their own video.
A second differentiator, for providers who don't necessarily want to allow user uploads, is Eyespot's core video studio. In this offering, content providers offer their own library of media assets for users to mix and publish. NBA.com is an example of this implementation. When you go to NBA.com, in the video tab, there's an option for "NBA Highlight Mixer," where the user will find media that NBA has offered for mixing. A gallery of users' mixes is displayed, along with tools to share and embed your mixes. In this example, Eyespot augments the NBA's other video initiatives powered by Akamai's StreamOS.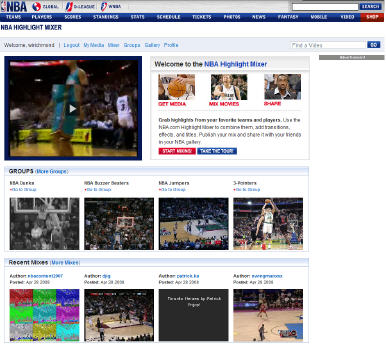 Jim explained that the payoff from offering video personalization is in driving more video views and hence more ad revenue. Jim explained that a typical site might get 10 video views per unique visitor per month, while Eyespot-powered sites get around 80.
I've been bullish for a while about the potential of user contributions and editing, yet it seemed like the market was slow to catch on. With Eyespot's new approach making access to its tools much easier, this will hopefully accelerate adoption.