Creating CEO Playbooks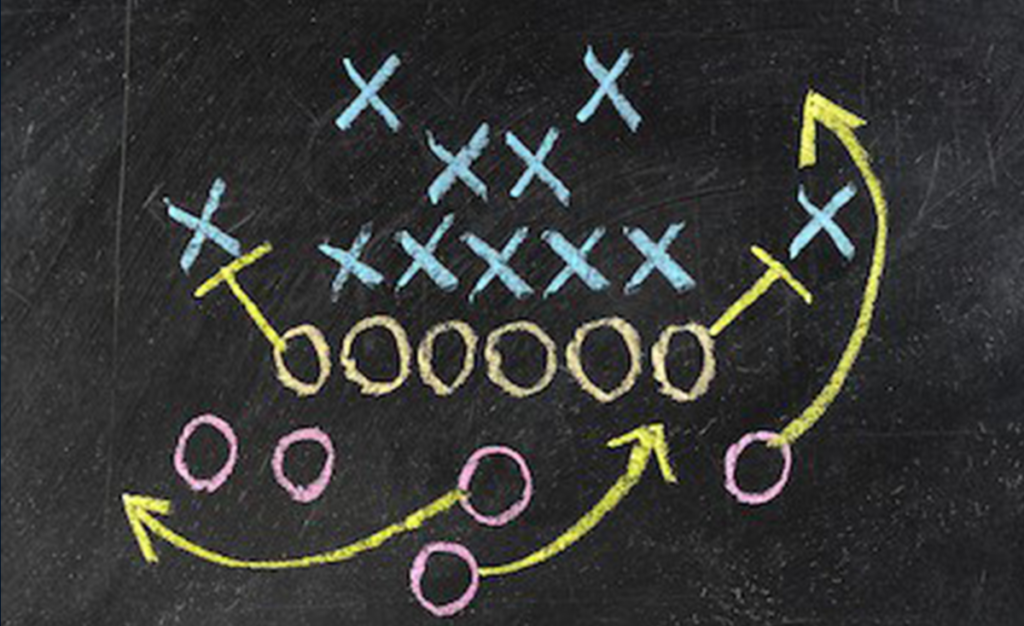 I absolutely love creating agile business systems with my team. When I first became a CEO back in 2000, I had a thesis – you should run your company the same way no matter what size it is (7 people or 7,000 people). My philosophy was that you should always operate as if you're a day away from being made irrelevant or one day away from becoming #1 in your category….and no matter how many people were in the business, you should treat every person as if they are either a day away from moving on or one day away from creating the most important idea in the company's history. Does it really matter if your senior team and you make up almost the entire company (aka you're pre-revenue and only 6 months in) or if each has 100's of people under them. Should you run your teams differently?
As business systems go, I also enjoy the virtuous circle of "creating and destroying" – meaning that you should always be willing to reinvent something after you've created it.
Part of me thinks that even if I can carry in all my tools, which I have collected along the way, to each of my companies….they are not really relevant. So many things change from company to company….a different culture, a different set of buyers and, not to mention, a completely different workforce that seems to be getting younger and younger.
I was just talking to a peer CEO who is selling compliance products to highly regulated companies. You might think that the typical buyer dynamics at firms like banks hasn't changed much. If you're a CEO selling into banks, I think you would agree…that buyer dynamics are changing – regulators are getting tougher, consumers of banking products are more digital, and products/services being sold to the banks are being reinvented. This CEO and I were reflecting that wall street brokers are now Gen-Z (24 years old or less), using SMS, WhatsApp, WeeChat, and the like, along with Slack….versus the Baby Boomer who is still used to leaving a voicemail and/or email. Do you think compliance is changing to address that change in communication style? Absolutely.
Playbooks
So, if my so-called "playbooks" from my last company are not going to be relevant for my "next team", why even talk about them? Because I think it's about "creating playbooks" for your team, or your company. The idea is to be in the mindset where you apply "create and destroy" playbooks every quarter, no matter where you are in the stage of the company…no matter how much you are struggling or succeeding.
A peer asked me during our annual CEO retreat this past weekend, "So how do you structure playbooks?" My answer was two-fold:
I like every business function to solution problems in their functional area every quarter
I like the company to solution problems that cut across business functions every quarter
So, I usually structure playbooks into these two categories. We spend time every quarter on "sales", "product management", etc. We also spend time every quarter on the "Top 3 issues concerning the company". And, yes, they do overlap…in a good way.
Playbooks that support advancing your themes
In order to put some structure to the chaos, the ideal is to also create a "painted picture" of the company five years out (that's a playbook in of itself)…and use the results of that exercise to create a 5-year plan (see below)…which, yes, helps you define your set of quarterly playbooks.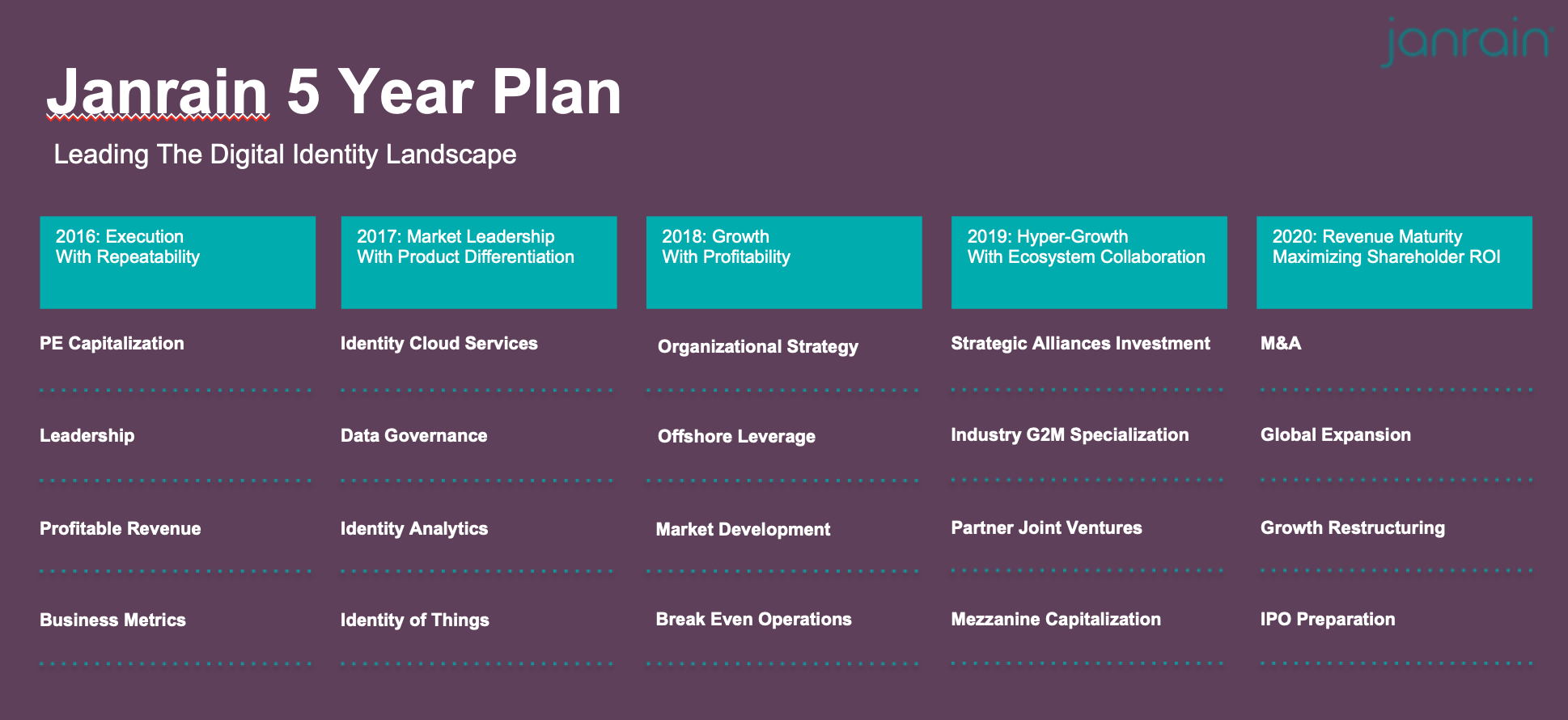 At Janrain, we not only wanted to become the leader in our identity landscape (why have any other goal?)…but we also wanted to define what that landscape would become in 5 years. So we created annual themes supported by quarterly themes, and we unleashed playbooks every quarter. Below are over 170 playbooks (many of them repeated over 11 quarters, and I'm sure I missed a bunch we launched within a given quarter that were not a part of the original quarterly strategic planning).
We processed three key issues every quarter (again, some repeated until they were actually solved), brought in external consultants to help us see past ourselves (17 in total), and did some (crazy fun) team building  – every quarter!! See a summary of the team's playbooks below:
Year
Annual Themes
Quarterly Themes – # of playbooks

2016

Execution – With Repeatability

2017

Market Leadership – With Product Differentiation

2018

Growth – With Profitability

2019

Hyper-Growth – With Ecosystem Collaboration

Strategic Alliances Investment

Industry G2M Specialization

Partner Joint Ventures / Dev

Mezzanine Capitalization

2020

Revenue Maturity – Maximizing Shareholder ROI

M&A (we successfully purchase in an adjacent market)

Global Expansion

Growth Restructuring

IPO Preparation (S1)
Here's a bonus link to my "CEO Management System" in a summary document here.